Dritz My Double Designer Dress Form Full Figure
The Dritz My Double Designer Dress Form Full Figure will help you fashion a double of your body providing you with professional looking garments. Use the form to audition fabrics and test the drape and overall look and feel before you start your project. The Dritz My Double Designer Dress Form Full Figure is ideal for checking the fit of your pattern tissues and garment test muslin. The form assists with modifications and alterations to both new construction and ready-to-wear clothing that requires modifications. The Dritz My Double Designer Dress Form Full Figure fabric is a neutral colored cotton/polyester with foam-backing for easy pinning and marking when draping and designing.
Features of the Dritz My Double Designer Dress Form Full Figure
Adjustable Body: 12 soft-grip rolling wheels adjust dress form in precise increments allowing you to customize the form to match your bust, waist, and hip measurements; decorative, wood finial adjusts neck Size
Expandable Back Waist: Easy access knob at neck turns to expand waist and hip area adding up to 2" of additional Length
Extended Shoulders: Designed to assist with the support and setting in of sleeves on blouses, tops, shirt, and jackets
Center Pole: Positioned for fitting and hanging tops, blouses, shirts, jackets, coats, skirts, dresses, and gowns
Off-Set Pole & Shaped Body: Side pole placement accommodates straight hanging of pants legs; shaped hips, crotch and thigh areas support the design and fitting of pants
Adjustable Height: Expandable metal pole allows customization of dress form height to match your shoulder to floor Length measurement
Mobile: Rolling base provides easy movement around sewing workspace and 5 Locking casters provide stationary stability during use.
Fabric: Neutral cappuccino color with cotton/polyester foam-backed cover for easy pinning and marking when draping and designing
Additional Features: Built-in pin cushion for easy pin access and storage; printed pole measurements and an adjustable 360° pin hem marker help Create accurate, even hems; full color step-by-step instructions.
Dritz My Double Designer Adjustable Dress Forms: What is a Dress Form?
A dress form is an integral part of the sewing process. It is a shaped form that mimics your own body measurements. Use it to pin on pattern pieces, test-fit seams during construction or to drape and design a garment. Fashion is easier to create and fit when the garment is in front of you! When purchasing a dress form, consider size so that the form closely matches your measurements and features, such as hem markers, off-set poles for fitting pants, and shoulder to floor height measurement.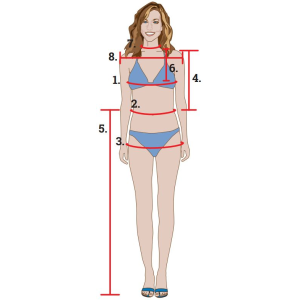 How to Choose a Dress Form
Dritz dress forms are adjustable so you can personalize the form to match your own measurements. We have three different styles of dress forms for women, one form for a man and one for a young child (male or female). Each has different shapes and features.
Take Your Body Measurements
1. Measure chest over the fullest part. 2. Measure natural waist – the area where your waistband most comfortably sits. 3. Take hip measurement 7"-9" below the waistline. This should be the widest part of your hip area. 4. Measure back waist length from neck to natural waist. 5. Measure from waist to the floor. Add this to the back waist length to find the height from neck to floor. 6. Measure from the shoulder to the center of the chest (women). 7. Measure around the base of neck. 8. Measure the shoulder across the back from side to side.
Measurement Tips
Wear the type of shoes and undergarments you would normally wear while taking measurements.
It is easiest to have a friend assist you.
For each measurement, the tape should be snug but not tight.
Choose a form that matches or is slightly smaller than your measurements — you can always pad to fit, but you can't subtract inches from the smallest dimension.
Size Adjustment Ranges of the Dritz My Double Designer Dress Form
Usage Instructions:
Select dress form size by taking your body measurements.
The dress forms are available in four sizes.
Select a size with adjustments ranges that include your body measurements.
Ready-to-wear clothing sizes vary by manufacturer and cannot be used as a guide when selecting a dress form size.
More Information

| | |
| --- | --- |
| UPC | 072879293890 |
| Part Number | 20023 |
| Condition | New |